Popular and trusted
Open for negotiations

Excellent customer service
Reasonable price
Cleaning With Make Clean Services
Professional Home & Office Cleaning Services in Sydney
Make Clean Services is a Sydney-based company providing professional cleaning services to residences, commercial entities, construction sites, corporate offices, and real estates. Our experienced, and skilled professional cleaners in Sydney are determined to provide the best possible service, and in the process, influence the environment to be a better place to live in.

We offer a wide array of affordable, and effective cleaning services in Sydney. We are proudly serving some of the city's finest companies, and residential areas. We use some of the latest technologies, and procedures to ensure the highest standard in our work to help you protect your families, employees and customers. At Make Clean Services, we are truly passionate about keeping the environment clean and making the world a better place. Our Sydney cleaning service is custom-designed to be best effective for a variety of industries. No matter the type of facility, our experienced cleaners have access to the tools and technology, and they are familiar with the methods to disinfect it and leave it sparkling.
READ MORE
What makes our Sydney Cleaners Different?
One of the most important aspects of our service is that our Sydney local cleaners will never take any generalised approach while cleaning your property. They will take into account your custom cleaning needs and come up with a tailored service accordingly. This ensures that we, as a house cleaning service, are never found wanting in terms of quality, while meeting your custom cleaning needs. The same can be said about our office, commercial and every other cleaning service that we offer.

All our local cleaners in Sydney would use the latest tools and techniques to offer flawless cleaning. Besides, they would always use the best cleaning products from renowned brands. They may even use organic cleaning products. This guarantees, our cleaning service does not have any adverse effect on health or environment. Thus, as the provider of professional cleaning services, we are the safest and the most trusted name to turn to.
We are flexible, highly caring and compassionate, besides being professional, and would press into service only the best experts, regardless of the scale of cleaning you need. This makes sure our cleaning service near Sydney never fails to justify your investment in us. We guarantee 100% satisfaction!

All our cleaners are trained, experienced, licensed, bonded and background checked and we are a fully insured company. This gives you complete peace of mind when you hire our local Sydney cleaners.

Being local, we are easily available and accessible 24x7, and despite offering the best cleaning in Sydney, we are always affordable.
Get a Free Appoinment Booking!
Some Pertinent FAQs regarding our Sydney Cleaning Service
What is deep Cleaning? Can you provide it while carrying out cleaning services in Sydney?
Yes. Make Clean Services provides deep cleaning. It can be referred to as intensive cleaning service in Sydney using specialised tools and products to remove stubborn, age-old stains and deeply rooted filth and dirt from walls, carpets, rugs, mattresses, tiles and so on.
How often should I summon your Sydney Cleaners to clean my property?
Well, that entirely depends upon you. However, depending upon the rigours your property is exposed to, you can summon our Sydney cleaners once in 3 to 6 months for deep cleaning.
I have got pets. How can your cleaning service in Sydney manage the pet stains and odours?
Our cleaning service in Sydney also includes removal of pet stains and odours and our experts are trained to remove pet stains.
Are you an insured cleaning service in Sydney?
Yes, we are a fully insured cleaning service in Sydney and all our cleaners are licensed, bonded and background-checked.
Book Our Service for a Spick & Span Property
What makes you wait then? Simply call us at
0449 974 500
to book our service rather than looking for us using key phrases like 'best cleaning service near me'. We are available 24x7. Or you can write to us to get an online, free quote.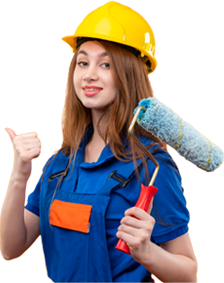 Check out for our other services!
Painting
What's Client's Say About Us
I would be glad to act as a phone reference for your company. Cleaning did a wonderful job and I certainly don't mind confirming their outstanding service. If you're thinking about hiring to clean your office building, ask them for my testimonial and call anytime.
Stephanie Mealy
Fast service and good work. It's the first time that we have used their service for our small office and I should say I am very pleased with the quality of work. Friendly, honest and hard working team. Highly recommended!
Greg Andrews
My husband and I are very satisfied customers and have been for over 15 years. Make Clean Services always keeps our home just lovely and are willing to accommodate special requests. I am glad I have a company I can trust and will do the same quality work each cleaning.
Victoria Barry